First Class of Grand Challenges Scholars Prepares for Graduation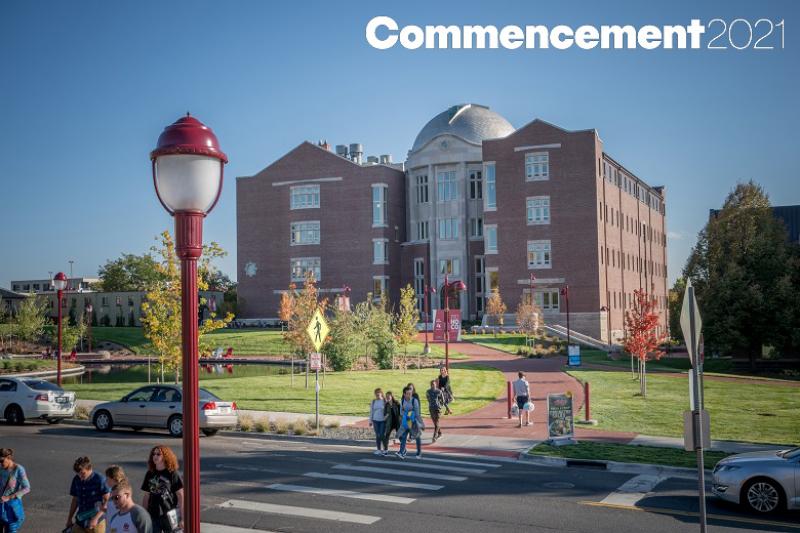 Oli Hassan knew she had a tough decision to make.
On the one hand, there was her dedication to the environment. Growing up oceanside in Miami, she recognized the importance of water and the devastating effects of pollution. She wanted to do something about it.
On the other hand, there was the University of Denver, which boasted a brand new engineering building, a beautiful campus and access to rock climbing, but lacked an environmental engineering program.
"I came here because I loved this place," Hassan says, acknowledging that her decision required sacrifices. "I had to give up doing something I really love."
That changed when the Grand Challenges Scholars Program (GCSP) came along.
As a member of the program's seven-student inaugural class at DU's Ritchie School of Engineering and Computer Science, Hassan found she could pursue her passion after all. With its highly personalized path to graduation, GCSP provides an opportunity to approach the world's next big problems with a wide-angle lens.
Breigh Roszelle, a teaching associate professor and the Ritchie School's associate dean of undergraduate studies, says the program is a more accurate representation of what students could encounter in the real world.
"I think when people think of engineering, they think, 'Oh, you're really good at math,'" she says. "We like the idea of a holistic engineer. There are so many aspects of engineering and design outside of making a product."
The National Academy of Engineering created its grand challenges program in 2008 with a goal of making a more sustainable, secure, healthy and joyful world. The Ritchie School hopped on board in 2017, building a five-pronged syllabus that includes:
an interdisciplinary curriculum that encourages coursework outside of the Ritchie School

entrepreneurship education and experiences

a global focus, either through study abroad or Engineers Without Borders

community service

research related to one of 14 Grand Challenges issue areas, ranging from building smart cities to improving medicine to enhancing the efficiency of solar power
For Hassan, that topic was improving access to clean water. In the summer of 2019, she traveled to the Dominican Republic to help underserved communities construct water-filtration and sanitation systems.
Later that year, she took her research to London, representing DU at a Grand Challenges summit, networking with students and professionals from across the globe, with whom she stays in touch.
"It was cool to work with universities all over the world and have those connections," Hassan says. "It's probably the biggest impact of my college career."
Jordan Smith, meanwhile, zeroed in on engineering better medicine. With his research, which he started as a sophomore, Smith he hopes to help medical professionals can catch neurodegenerative disorders like Parkinson's disease earlier.
Beneficial as his time conducting research was, Smith's experiences outside the lab proved just as critical to his education.
"Most engineering majors don't study abroad in Belize and Vienna or found an after-school program for STEM education or get their leadership studies minor," he says. "All of these experiences have been teaching me how to deal with different types of people, different groups, how to tackle different challenges."
How students take on those challenges, Roszelle says, is largely up to them. The autonomy students receive to pursue their interests is one of the program's hallmarks. Another is a focus on equity for women and students of color. GCSP, for example, enrolls a higher percentage of female students than many entire engineering and computer science programs.
Those outside of GCSP still reap the benefits of the program, Roszelle says. A tight-knit student body means the GCSP cohort is frequently partnering with classmates on projects, research and initiatives.
"This is a class of trendsetters," Roszelle says of the scholars. "If they do something, they do it big. They definitely have the attitude of 'I'm going to do this, and I'm going to do it right.'"
DU's first cohort of scholars will take a number of different paths. Hassan is applying for jobs in water and waste management engineering. Smith will stay on campus to pursue a master's degree in systems engineering while working a job at Lockheed Martin.
No matter their next steps, Smith says his cohort will be forever bound by the ideals that brought them to the program in the first place.
"I know everyone in the Grand Challenges program cares about something — something outside of getting their degree," he says. "Grand Challenges adds that idea of 'you are not a calculator, you are an innovator,' and I think this program is the key starting point to obtain those skills."
2021 Grand Challenges Scholarship Program graduates:
Tim Bouraoui 

Bobby Chopra

Lesley Figueroa 

Luca Gacy

Olivia Hassan

Jordan Smith

Celina Wilkerson
Plans for commencement for the Class of 2021 are underway. We are extremely proud of our 2021 graduates and are looking forward to providing commencement information as soon as possible.