Graduate Discovers Passion for Engineering and Leadership at DU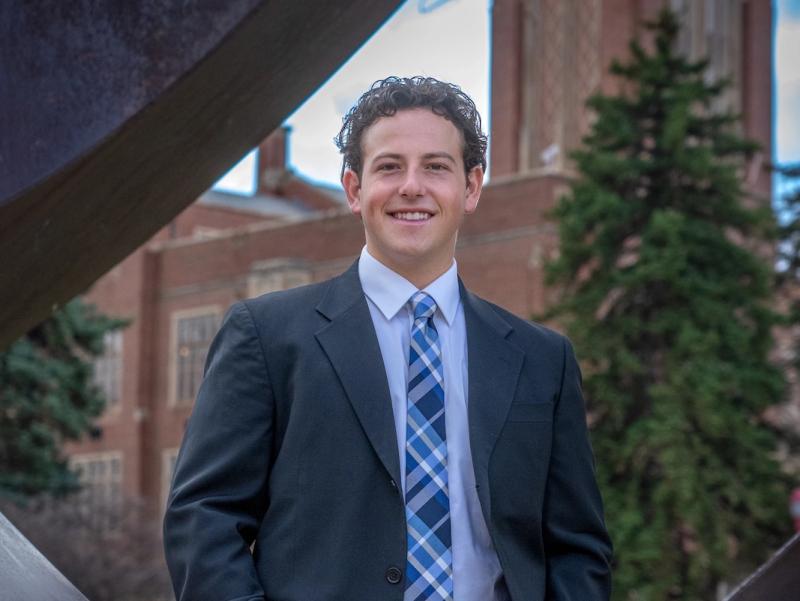 Kyle Bucholtz spent his four years at the University of Denver assembling an array of skills and diving into his passions.
From living and learning with fellow student leaders as part of the Pioneer Leadership Program (PLP) to forwarding the understanding of the human brain as an undergraduate researcher, Bucholtz—who is majoring in electrical engineering with minors in physics, mathematics and leadership studies—has done a little bit of everything.
Initially split between studying economics and engineering, the San Diego native applied to a variety of programs, but when it came time to decide which school to attend, a visit to campus made it an easy choice. "It was a good fit. DU checked off all the boxes on my list."
When he arrived on campus in 2019, Bucholtz was an undeclared engineering major, and spent his first year taking a variety of classes to explore different disciplines. By his sophomore year, Bucholtz says, the decision was easy. "I ended up choosing electrical," he says. "I really enjoyed those classes and felt like I learned a lot, and it interested me. Messing around with breadboards and all kinds of electronics was really cool, so I decided to go down that path."
By the next summer, Bucholtz started putting his skills to work as an undergraduate research assistant in the Perceptual and Cognitive Dynamics Lab, which studies how to reverse engineer the brain to better understand vision. He spent the summer and a portion of his junior year designing a virtual reality program to test how people see and store shapes in their memory and how quickly they could recognize them when shown them in a different way. Bucholtz says his time in the lab offered him a chance to build new skills and helped shape his plans for the future.
"I learned a lot from it. It was good programming exposure—more exposure than I had before—and it was cool to see and understand what goes on in the research side of things," he says. "It also helped me determine that, at least for the time being, I want to go into industry when I graduate. But maybe I'll eventually go back to research."
Bucholtz made the jump into industry through an internship with Xcel Energy following his junior year. He spent his time in the power and energy sector, analyzing, forecasting and laying out plans for the maintenance and development of the electrical grid in an increasingly electrified world. And recently, Bucholtz leveraged his experiences and skills to find an opportunity to pursue a lifelong passion for aerospace engineering, accepting an offer to work with Sierra Nevada Aerospace after he graduates in June.
When he finds time between class and work, Bucholtz keeps himself busy both on and off campus. As a freshman, he volunteered as a student mentor with the STEM Club at Strive Prep, working with other engineering students to bolster excitement for science, technology, engineering and math in public schools across Denver. In his sophomore year, Bucholtz welcomed first years to campus as a Discoveries Orientation Leader. In his fraternity, Bucholtz took on a leadership position as vice president of recruitment. What's more, he is a member of Equity in Science, Technology, Engineering and Math (E-STEM) and was recognized for his academic achievements when he was accepted into the Tao Beta Pi engineering honor society.
As graduation draws near, Bucholtz says he has enjoyed his time at the University. Though disruptions brought about by the COVID pandemic were challenging at times, he highlights the importance of finding a community through his PLP cohort, fraternity, courses and research. "I've really figured out who I am. Coming in freshman year and thinking back to who I was and who I am now, it's pretty crazy to think about," he says. "Everyone I've met here and the friends I've made are lifelong friends, for sure."