DU's Commitment to Research Brings a Promising Scholar to Campus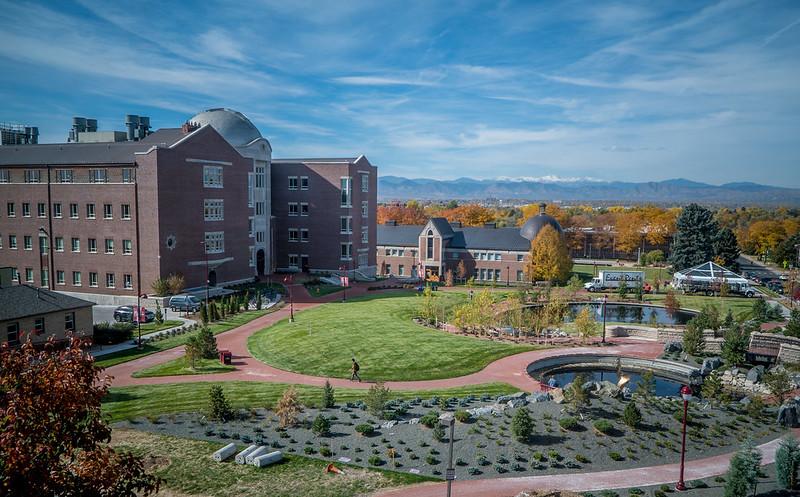 Sangho Bok, associate professor of electrical and computer engineering in the Daniel Felix Ritchie School of Engineering and Computer Science, is an up-and-comer in his field. For proof, you need look no further than his National Science Foundation CAREER award, which acknowledges his work developing biosensors to detect health conditions faster and more accurately.
In 2022, not long after receiving the prestigious award, Bok opted to accept a position at DU and join the University's research community. One of the attractions: DU's newly minted status as a Research 1 (R1) institution, a designation from the Carnegie Classification of Institutions of Higher Education that recognizes universities conducting the highest levels of research. For Bok, the R1 designation signaled that DU could catalyze his work helping health care providers make time-sensitive decisions that could lead to better health outcomes for patients.
"As a researcher, conducting research in a R1 university means a lot," Bok says. A campus brimming with students and faculty committed to finding solutions to the world's problems was enticing enough, but Bok also welcomed the University's efforts to bolster diversity, equity and inclusion.
The National Science Foundation's acknowledgment of Bok's passion for innovative research came in 2021, when he was on the faculty at Southern Utah University. Given to faculty early in their careers, the CAREER award recognizes academic role models who are making strides in research and education.
The ultimate goal of his research, Bok says, is finding new, more thorough ways to detect health concerns in their earliest stages, thus increasing opportunities for successful health care interventions. Early detection and diagnosis require highly sensitive tests for the body's minute physical responses to illness or disease, called biomarkers. Nanotechnology enables the construction of biomedical sensors that can operate at the scale and speed Bok says is necessary for early and accurate detection of disease.
But a single biomarker, like a change in heart rate or the presence of a chemical in a patient's blood, does not tell a complete story.
This limitation can be overcome by testing for numerous biomarkers simultaneously, Bok says. While allowing for earlier detection, simultaneous testing also creates large reservoirs of complex data that must be interpreted before diagnosing a patient.
Traditionally a task performed by clinicians, this time-consuming process slows the diagnoses and treatment of health concerns. To make use of the increasingly large and complicated sets of data, Bok is researching how machine learning systems can automate the data-analysis and diagnosis processes. Automation would allow doctors to offer patients fast, accurate and unbiased diagnoses. As Bok explains, advances in biomarker detection and automated diagnosis of disease could revolutionize how health care providers and patients alike uncover and treat health conditions.
While setting up his lab and settling into campus, Bok has been enjoying the University's location—"not too close, but close enough to downtown." The city's urban advantages provide a welcome contrast to his time in more rural Utah.
Like much of the DU community, Bok is also hoping to take advantage of the University's close proximity to the Rocky Mountains. When he's not in the classroom or his lab, he might just be found on the slopes with his snowboard in tow.