Harvey Fuels His Many Passions at DU
Engineering student finds purpose in the classroom, on the lacrosse team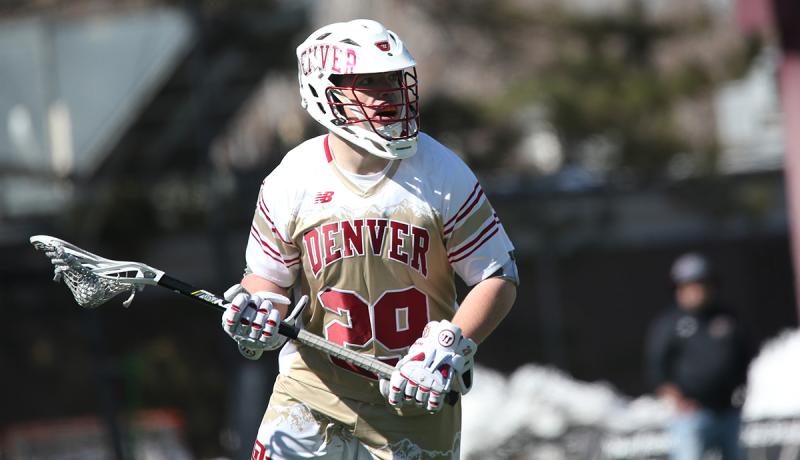 Don't call him a Renaissance man, but Jackson Harvey is a man of many talents.
"It sounds conceited to say something like that," he says with a laugh. "I'm just the type of person who likes to keep busy."
For Harvey, busy is a degree in mechanical engineering with minors in computer science, electrical engineering, physics and mathematics, which he will complete upon commencement in June.
Busy is an internship at the D111-D National Fusion Facility in San Diego, operated by General Atomics for the Department of Energy.
It's the early morning wake-up calls and the "Monday mile" that come with being a member of the University of Denver men's lacrosse team, where he's a short stick defensive midfielder and face-off specialist, two of the grittiest roles on the field.
Oh yeah, he also plays the cello, piano, bass guitar and harmonica.
Harvey likes to keep busy.
"As much as I will complain about being busy, it's something that I've realized is within me," he says. "I just need to stay busy. It's better for me and my organizational skills if I'm always working. It keeps me more focused."
That compulsion for hard work swirled with his varied interests to create a nontraditional track at the Daniel Felix Ritchie School of Engineering and Computer Science.
Harvey had grown up with an interest in aerospace engineering, before he even knew what aerospace was.
"I just thought the word sounded cool," he says.
After flirting with electrical engineering, he opted for mechanical engineering. It's the broadest engineering discipline, he says, and he had completed some of its coursework during his first 1 ½ years. He still went down the electrical path, picking up the resulting minor, and his choice of mechanical engineering allowed him not to be boxed in.
"All of these minors, it's not so much of a career thing, doing this to become more marketable," he says. "I honestly did it because I enjoy a lot of it. I really enjoy circuits and computers and all of it. I didn't see a point in just stopping."
Not until his internship with General Atomics did he develop his true passion: high-power microwave systems engineering. At the National Fusion Facility, he designed and analyzed component models for nuclear energy research.
"I worked on electron cyclotron heating systems for nuclear fusion reactions," he says. "But the biggest part was the problem-solving. It doesn't seem like you get an opportunity like this outside of academia a lot. 'Here's a problem, and we don't know how to fix it.' It wasn't a known thing, some of the things we were working on. It was that from-scratch creativity but also an engineering process that I really enjoyed."
His employer recognized his passion, and Harvey landed a full-time job after graduation. He'll return to San Diego, working with engineers on similar projects that mix theory and practical application.
Harvey's knack for problem-solving extended beyond the classroom, too. He says the Ritchie School is relatively small, especially for upperclassmen. A specific class may only be offered in one time slot. Sometimes, that led to conflicts with his other love — lacrosse.
Harvey says he balanced such conflicts because he had the trust of his professors and coaches. Professors were gracious in sharing their time, and coaches recognized the importance of academics.
It wasn't just direct conflicts that added stress to his daily life. But again, Harvey likes to keep busy. While attending Arapahoe High School in Centennial, the DU men's lacrosse team won the 2015 NCAA tournament title, the first university outside the Eastern Standard Time zone to do so.
Having a prestigious program just up University Boulevard, coupled with a high-quality engineering school, motivated Harvey to visit. Once there, he meshed well with his future teammates and decided to commit to DU.
"Lacrosse has been everything," Harvey said. "I visited a bunch of schools out East. And even on my official visit here, the culture, the team, the players, it's a lot different and a lot more welcoming. The seniors, it wasn't very cliquey at all. We were all kind of hanging out together. You always had a really good group of guys who had your back no matter what.
"It's a very friendly, very competitive, very serious culture. People are expected to do well in school. If anything, I'd say the experience has been uplifting."
To learn more about this year's Commencement ceremonies, please click here.