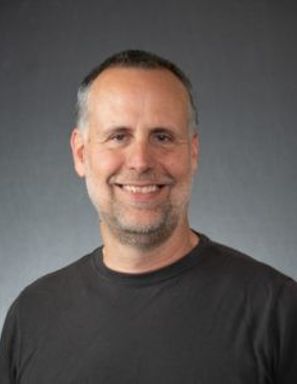 Scott T. Leutenegger
Professor; JEDI Director
Faculty
Department of Computer Science
303-871-2821 (Office)
Engineering & Computer Science Building, 2155 E. Wesley Ave. Denver, CO 80210
What I do
Professor of Computer Science and Ritchie School JEDI (Justice, Equity, Diversity and Inclusion) Director
Professional Biography
Dr. Scott Leutenegger is a professor of computer science and Ritchie School JEDI (Justice, Equity, Diversity & Inclusion) Director. He earned a PhD in Computer Science from UW-Madison in 1990 and a BFA in Studio Art from the University of Denver in 2015. Since 1990 he has held positions at IBM T.J. Watson Research Center, NASA ICASE, the College of William of Mary, Otago University, and the University of Denver. He has received the National Science Foundation Career Award and the University of Denver Distinguished Teaching Award. Two of his research contributions became part of commercial products and his most highly cited publication laid the foundation for a new direction in spatial-temporal database indexing. His current research interest is focused on JEDI in computer science and engineering education, text mining, and computational art.

Professor Leutenegger also works as an artist at the intersection of photography, computation, and traditional studio art practices. He completed his BFA in Studio Art from the University of Denver in 2015. His research and teaching experience inform his art making, most directly by the introduction of computational image manipulation, and indirectly by the play between logic and intuition necessary for both art and science. His work tends to focus on landscapes, both natural and socio-political.
Degree(s)
BFA, Studio Art, University of Denver, 2015
Ph.D., Computer Science, University of Wisconsin , 1990
MS, Computer Science, University of Wisconsin, 1987
BS, Mathematics, University of Wisconsin, 1985
Professional Affiliations
Association of Computing Machinery
Research
Key Projects
Cultivating Inclusive Identities of Engineers and Computer Scientists: Expanding Efforts to Infuse Inclusive Excellence in Undergraduate Curricula
Featured Publications
(2021)
.
Leveraging Changes in Engineering and Computer Science Curricula to Engender Inclusive Professional Identities in Students
.
ASEE Annual Conference and Exposition
.
.
(2007)
.
A games first approach to teaching introductory programming
.
Proceedings of the 38th SIGCSE technical symposium on Computer science education
.
.
Performances
(2015)
.
Progress?
.
Colorado Womens College

,

Denver, CO, USA
.
.
(2015)
.
He/She
.
Vicki Myhren Gallery, Denver
.
.
Awards
Career Award, National Science Foundation
Distinguished Teaching Award, University of Denver