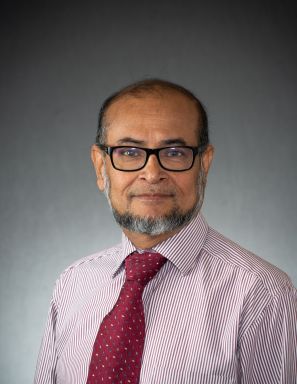 Mohammad Abdul Matin
Professor
Faculty
Department of Electrical & Computer Engineering
303-871-2833 (Office)
Engineering & Computer Science, 2155 East Wesley Avenue Denver, CO 80208
What I do
Teaching and Research in Power, Energy, and Photonics
Specialization(s)
Power and Energy, Optical and Wireless Communication
Professional Biography
Dr. Mohammad Abdul Matin, Professor of Electrical and Computer Engineering, in the School of Engineering and Computer Science, University of Denver. He is a Senior Member of IEEE, SPIE & OSA. He is also a member of ASEE and Sigma Xi.

Degree(s)
Ph.D., Electronics and Electrical Engineering, University of Nottingham, 1993
Professional Affiliations
Institute of Electrical and Electronics Engineering
International Society for Optics and Photonics
Optical Society of America
American Society for Engineering Education
The Scientific Research Society
Research
My research involves power and energy from materials and devices to power electronics systems using wideband gap devices, communications systems such as optical and wireless, and signal processing & data mining.
Key Projects
Thin-Film Deposition and Characterization of CuZnSnS4, Cu2ZnSnSe4 and Cu2O Compounds for PV Applications
Thin Film Deposition of Metal Oxide Films Using RF Sputtering and Printing
High Performance Flexible Electrochromic Windoes
Direct Brain Control of Artificial Limb Using Optical Functional Imager
NUE: Development of Multidisciplinary NanoEngineering Curriculum at the University of Denver
Featured Publications
(2012)
.
Titanium and Magnesium Co-Alloyed Hematite thin Films.

Journal of Applied Physics
,

111

(073502)
.
.
(2012)
.
Enhancing the stability of CuO thin-film photoelectrodes by Ti alloying.

Journal of Electronic Materials (TMS & IEEE)
,

41

(4)
.
.
(2014)
.
Fabrication and Characterization of CZTS Thin Films Prepared by the Sulfurization of RF-Sputtered Stacked Metal Precursors.

Journal of Electronic materials
,

43

(9)
.
.
Presentations
(2017)
.
3D analysis of thermal and electrical performance of wide bandgap VDMOSFETs
.
Wide Bandgap Power Devices and Applications II
.
San Diego:

SPIE
.
.
(2016)
.
Thermal modeling of wide bandgap materials for power MOSFETs
.
SPIE Optics + Photonics - 2016
.
San Diego:

SPIE
.
.
(2015)
.
Characterization of Cu2ZnSnS4 thin films prepared by the sulfurization of co-sputtered metal precursors
.
SPIE Optics + Photonics - 2015
.
San Diego:

SPIE
.
.
(2015)
.
Results from an Experiment that Collected Visible-Light Polarization Data Using Unresolved Imagery for Classification of Geosynchronous Satellites
.
SPIE Defense, Security, and Sensing (SPIE DSS) 2015
.
Baltimore
.
.
(2014)
.
Calibration of a System to Collect Visible-Light Polarization Data for Classification of Geosynchronous Satellites
.
SPIE Optics + Photonics - 2014
.
San Diego
.
.
Awards
Ritchie School Citizen of the Year, SECS
Senior Member, Optical Society of America
Senior Member, SPIE
Best Teaching Award, SECS
Senior Member, IEEE