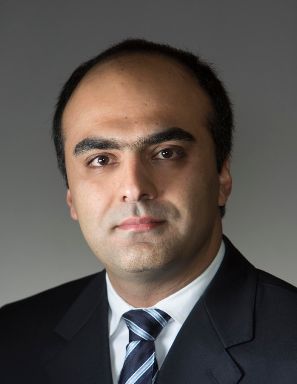 Ali Azadani
Associate Professor
Faculty
Ritchie School of Engineering and Computer Science
Department of Mechanical & Materials Engineering
What I do
Dr. Azadani is the director of the DU Cardiovascular Biomechanics Lab. The lab is focused on applied and translational research in the field of cardiovascular engineering. The team uses computational and experimental methods to obtain greater insight into the complex pathways of cardiovascular diseases and thereby to develop new diagnostic and therapeutic devices.
Specialization(s)
Cardiovascular Mechanics, Biofluid Mechanics and Biotransport, biomechanics, heart valves, Biomechanics of Trauma
Professional Biography
Dr. Azadani is an Associate Professor in the Department of Mechanical and Materials Engineering at the University of Denver. He received his PhD in Mechanical Engineering from Rensselaer Polytechnic Institute (RPI), and completed his post-doctoral research at the University of California, San Francisco (UCSF) in the Division of Adult Cardiothoracic Surgery. Dr. Azadani leads a multidisciplinary research group at the University of Denver. The scope of the research projects encompasses structural heart disease including transcatheter heart valve replacement and development of patient-specific therapeutic strategies. Strong collaborations exist between his lab and other research groups in the U.S. and worldwide.
Research
In 2013, Dr. Azadani joined the faculty at the University of Denver and founded the Cardiovascular Biomechanics Laboratory. Dr. Azadani has had the opportunity to advise and mentor students at various levels and backgrounds, and their work has led to interesting research work and publications. The team is currently well established in the field of cardiovascular biomechanics, and has expertise in computational modeling and simulation, including finite element (FE) analysis, computational fluid dynamic (CFD) simulations, and fluid-solid interaction (FSI) simulations. In addition, the lab is equipped with state-of-the-art equipment for in vitro testing of biomaterials and medical devices. In addition to standard equipment, the lab has a custom-built pulse duplicator system for testing prosthetic heart valves, high-resolution particle image velocimetry (PIV) system, biaxial stretching system, 3D cardiovascular ultrasound system, 3D laser scanner, and access to a 3D high-resolution digital image correlation (DIC) system. Moreover, the DU Cardiovascular Biomechanics Lab has a strong record of federal, industrial grant, and foundation support.
Areas of Research
Biofluid Mechanics, Soft Tissue Mechanics, Biotransport, Transcatheter Heart Valve Replacement, Valve-in-Valve Implantation, Valve Thrombosis, Left Atrial Appendage Closure Devices
Awards
Scholar of The Year Award