Meet Shaina Shumway – Computer Engineering Study Abroad Undergrad Student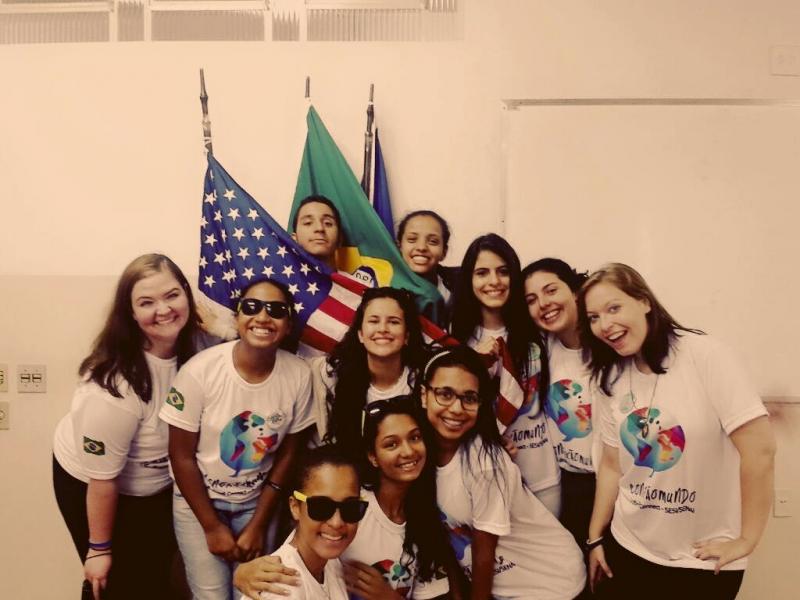 Meet one of our computer engineering student's that studied abroad – Shaina Shumway – who will be starting her second year at the Ritchie School in a few short weeks:
This summer, I was given the chance to participate in a program Conexão Mundo (World Connection) with the company US-Brazil Connect. Conexão Mundo is an English immersion and cultural exchange with a US team and a group of Brazilian teenagers at one of 32 different sites in Brazil. There are 4 phases of this program. Phase 1 is done through Facebook and Google Hangouts, Phase 2 is face-to-face interaction at the Brazilian site, Phase 3 is Facebook and Google Hangout intensive, and Phase 4 is when the top 5% of students from each Brazilian site get a trip to Denver. There are many options within the program, such as Global Leaders Fellowship, STEM Fellowship, and Senior Fellowship. The STEM Fellowship is a program that is new US-Brazil Connect. This fellowship gives US students pursuing STEM careers an option to study abroad. Due to the nature of STEM programs, many students are not able to study abroad for a quarter, and US-Brazil Connect allows this dream to become a reality.
Phase 1 is when I got to meet my US team. My team consisted of 5 total people: A team coordinator, an Education Facilitation Specialist, and three Global Fellows. Our team coordinator and one of the fellows were the only ones in our team that could speak much Portuguese, and the other fellow spoke Spanish as his first language. During Phase 3, we were stationed in a very small city in Rondônia. Rondônia is a state in the north of Brazil, along the coast of Bolivia. Our assignment was in the Cacoal. The city is only 37 years old and is booming with universities and medical schools. Our groups of students varied between 9-11 students each, and the coaches taught in full English immersion for 4 hours each day. Each team worked together on communication skills and also on project based skills. These projects consisted of team names, dancing, games, and sharing their passion for learning new languages.Class activity called MinefieldOur team coordinator and students
US-Brazil Connect gave me a chance to get students interested in learning English so that they can pursue their dreams and attend an American University . The cultural exchange was rich and reminded me the importance of STEM careers and education. It also allowed me to gain experience in leading a global team. This opportunity abroad gave me a unique perspective on the Brazilian Confederacy of Industry and has allowed me to learn a lot about the importance of pursing technical fields. If you have any other questions regarding the program, feel free to check out us-brazil.org!