High School Students Acquire Skills at Ritchie's 2016 Engineering Summer Camp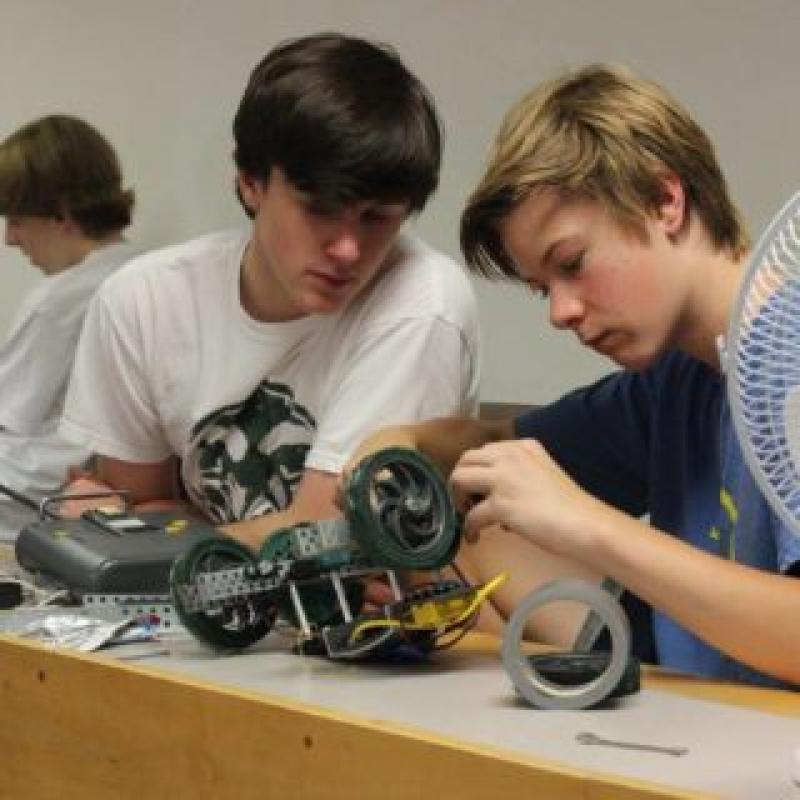 Last week, the Ritchie School held its annual Engineering Summer Day Camp for students entering their freshman, sophomore and junior years of high school. Each day was dedicated to preparing for robotic competitions, but there were also fun activities in between to enhance the students' engineering creativity.

Facilitated by Professor Breigh Roszelle, Ph.D., of the Department of Mechanical and Materials Engineering, the week-long camp exposed students to the fundamentals of engineering, as well possible career opportunities in the fields of electrical engineering, mechanical engineering, mechatronics, bioengineering and computer engineering.

The first day of camp allowed participants to get to know each other with fun activities like the GPS Amazing Race and building marshmallow towers. Students concluded the day by learning about the design process for constructing the robot they would be building, called a "squarebot," to face off in two competitions held during the week—the Extreme Soccer Robot Competition and the Robot Obstacle Challenge Competition.

For most of the day on Tuesday, the students prepared for the Extreme Soccer Robot Competition. In pairs, they added personal touches to their "squarebots" in order to optimize their designs for battle. The students tested out their robots during a preliminary soccer game before participating in the final Extreme Soccer Robot Competition at the end of the day.
On Wednesday morning, the students took a break from preparing for competitions and worked on building bridges. They used plastic water bottles and tape to build bridges that extended from one table to another. In the afternoon they were introduced to the Robot Obstacle Challenge Competition and began testing their robots. The day concluded with a panel of undergraduate students talking about their college experiences.

Thursday morning students heard from Dr. Mahoor and his research group about their research on visual pattern recognition, social robot design, and bioengineering. Professor Mahoor and his team have built robots to assist children with autism. After lunch, the students worked with mousetrap levers to keep their engineering brains active. The day concluded with preparations for the Robot Obstacle Challenge Competition.

After a final check first thing Friday morning, the Robot Obstacle Challenge Competition was underway. After the two-hour long event, the students had a last day celebration lunch to finalize the week.

The students had a great time learning about engineering and computer science in a fun way that may change the way they feel about what they want to study in the future.