Engineering and Computer Science Building is Open for Business
Hundreds in attendance for ribbon-cutting of the new building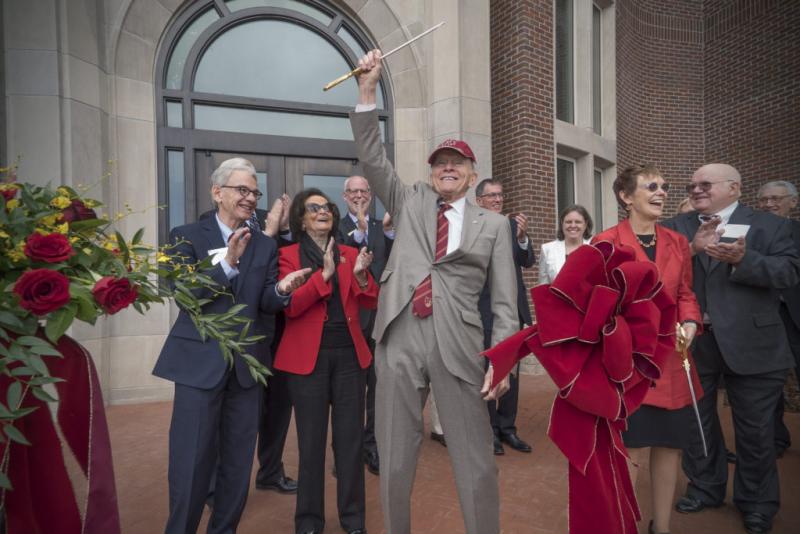 It was a day more than two years in the making. On Friday, Oct. 14, the DU community marked the grand opening of the new home for the Daniel Felix Ritchie School of Engineering and Computer Science. The five-floor, 130,000-square-foot facility features $1 million in new equipment and is a cornerstone of a new science, technology, engineering and mathematics (STEM) initiative at the University of Denver.

"This is a building that positions us to serve our students, to serve the problems and issues in our city, and to serve the research of now and well into the future," said Chancellor Rebecca Chopp.

The new building provides facilities for the engineering school's growing focus on entrepreneurship and collaboration. It also allows for research, instructional space and community areas to all be housed under one roof.

"This is a transformational moment for the University, but from my point of view, it is a transformational cultural moment for this school," JB Holston, dean of the engineering school, said at the opening celebration.

The opening of the new building is also viewed as a game-changer in the community. "The ambition for this building is way beyond just the education of smart kids and making them into creative and talented adults," said Colorado Gov. John Hickenlooper. "Having a great impact in your engineering department is going to have a huge impact on the world."
During the grand opening celebration, which coincided with homecoming weekend, the Governor declared Friday "Dan Ritchie Day." The chancellor emeritus gifted $27 million for the construction of the building, and his impact is seen across the campus and the Denver community. "This is the capstone for everything Dan Ritchie has done, not only for the University of Denver, but for the city and the state of Colorado," said Governor Hickenlooper.

Ritchie thanked everyone for their hard work on the construction of the building and the completion of the garden outside the main entrance. He also spoke about his father – whom the engineering and computer science school is named after – and the important role he played in shaping who he is.

"My father made such a huge difference in my life and for me is an example of who I want to be," said Ritchie.

Dan Ritchie's younger brother, Tom, also attended the grand opening. He talked about how their father supported both of them growing up and what he would say if he was there for the opening. "He would look up at this building and say, 'I don't deserve this.' My answer to that is, 'Oh hell yes you do, because you have served and worked for your family, for your community and your nation.'"
Knoebel Institute for Healthy Aging Grand Opening

The opening of the new building also marked the grand opening of the Knoebel Institute for Healthy Aging (KIHA). The vision of the new multidisciplinary institute is to improve the quality of life, wellness and community for aging populations. "I can't think of a topic that is more important to many of us," said Chopp. "The percentage of aging is rapidly growing, and we are seeing that aging is not simply about being ill; it's about being healthy."

Research through KIHA on aging and aging-related conditions is already underway, bringing together professors from across DU. A handful of pilot grants are funding research on concussions, Parkinson's disease, kidney disease, traumatic brain injuries, caregivers for adults 65 and older, and real-time measurements of oxygen in a living body.

"This is a new era for DU, and we are so happy to be a part of it," said Lotta Granholm-Bentley, executive director of KIHA. "We have a unique opportunity to combine basic and translational research on aging with the groundbreaking engineering and inventions taking place in the new building and across the campus."

KIHA was established after the University received a gift from Betty Knoebel, widow of Denver food-services pioneer Ferdinand "Fritz" Knoebel. In addition to funding internal grants to DU faculty in the area of aging research, the gift also funds faculty positions in molecular life sciences and bioengineering.