Engineer Week 2018 at the Ritchie School of Engineering and Computer Science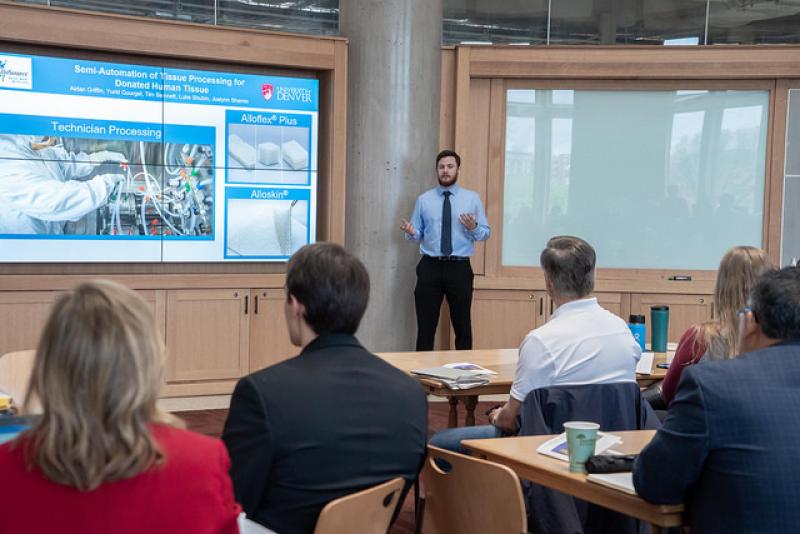 Flash Design Workshop by Project X-ITE
Monday, Feb.19 | 5-7pm | Innovation Floor
Compete against other engineers to build a massive cardboard city in just over an hour. Meet design requirements and push through material constraints to see who can build the coolest digs in Denver. Refreshments served for maximum engineering. No RSVP needed.

NSBE Study Night!
Tuesday, Feb. 20 | 4-6pm | ECS 200
ECS's forming chapter of National Society of Black Engineers hosts a study night. Pizza served.

Pancake Competition!
Wednesday Feb. 21 | 9-11am | Innovation Floor
Faculty face-off to see who engineers the best pancakes. Breakfast served and donations welcome for our Summer Camp Scholarships.

Society of Women Engineers Panel
Thursday Feb. 22 | 6pm | ECS 410
Come meet SWE professionals who went through the challenges of engineering just like us and now work out in the field. Ask questions about their time in college about internships and the future. Learn about their current jobs in the field.
Speakers include Kelsey Dempsey with Jacobs , Jason English with Ripple Effect Consulting, and Carol L. Skeltonwith CORE Consultants.

Maker Space Club Meeting
Thursday Feb. 22 | 6pm-7pm | Innovation Floor

Dynamize Club Meeting
Thursday, Feb. 22 | 7pm – 8:30pm | Innovation Floor

IEEE Engineering Professors Panel
Friday, Feb. 23 | 11am – 12pm | ECS 410

Please join the University of Denver IEEE Student Chapter for a career panel featuring some of the department's most recognizable professors. This is a great opportunity to learn more about your professors and the path that they took to get here; the discussion will be followed by a question and answer session. This panel will be hosted from 11 to noon on Friday, February 23rd and lunch will be provide