DU Night at the Museum Funds Robotic Research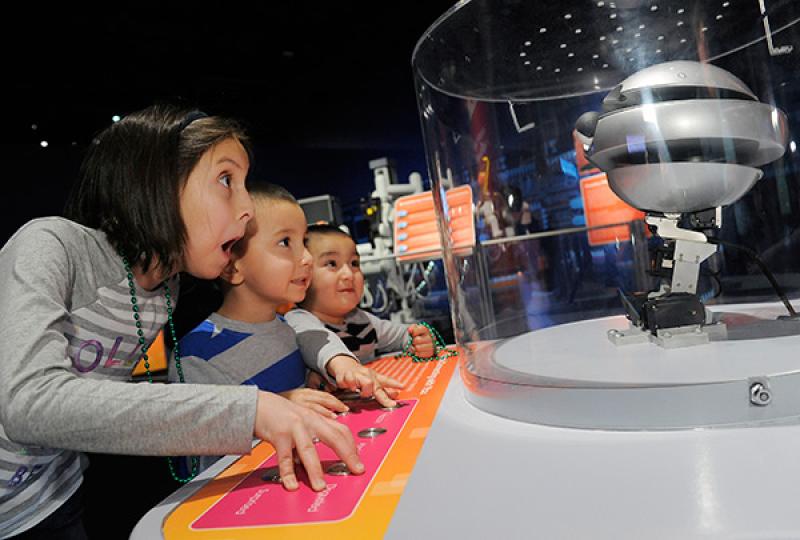 What if robotic technology could help children with Autism Spectrum Disorder improve their social interaction? That is the question being asked by Dr. Mohammad Mahoor, Associate Professor of Electrical and Computer Engineering at the University of Denver. Individuals with Autism Spectrum Disorder (ASD) and the related Asperger Syndrome (AS) have trouble with both verbal and non-verbal communication, including motor control, appropriate eye gaze and communicating emotions via facial expressions. Dr. Mahoor and his research team are investigating the possibility that humanoid robots, such as NAO and ZENO, can help high-functioning children with these disorders to improve their non-verbal communication. The research project has acquired the name "DU RoboAssist."
Evidence suggests that individuals with ASD and AS have their social responses triggered more effectively by robotic stand-ins than humans. For the past several years, the team working on this study has recruited ASD and AS as well as neurologically typical individuals ages 7-17 to play robot-based games designed to improve social skills. You can watch a brief video showing the research in action here.
On June 9th, DU Night at the Museum was held at the Denver Museum of Nature and Science in order to raise funds for this important robotic research. The event was organized by Prime Pioneers, a DU alumni group that is dedicated to helping individuals meet their career aspirations and build their personal and professional networks.
Guests at the event got the rare treat of interacting with cutting-edge robots that are almost never seen in public. Adults and children of all ages had the opportunity to control all-terrain robots, test their skills against tic-tac-toe and 21-playing robots, watch robots play soccer and interact with a therapeutic robot pet. Guests also met the DU robots who are the center of the institution's robotic research: NAO, Ryan, and eBear.
Thanks to the hard work of Prime Partners, over 225 guest enjoyed this unique event and about $5,000 was raised to support the Robotics for Autism fund. A great time was had by all while supporting a great cause. 
Want to learn more about the RoboAssist Program or what you can do to support this important work? Contact us!